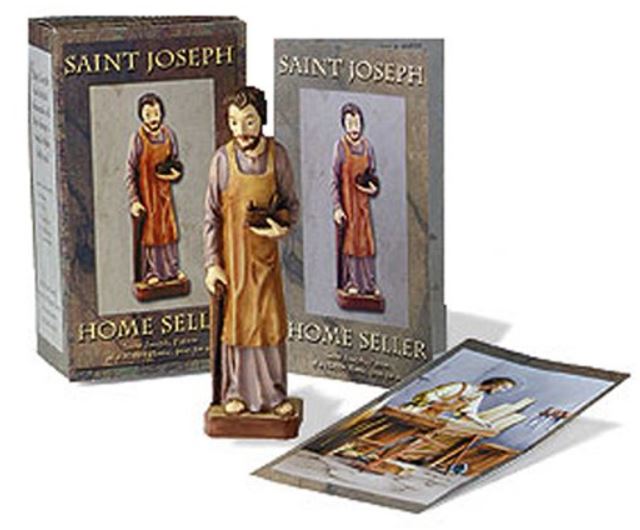 As we head into the heart of the holiday season, where both the supply of homes for sale and the demand for homes slide to their respective annual lows, it might be helpful for a brush up on one of the last-resort sales tactics available to savvy Realtors and home sellers at the end of their patience.
Yes, you guessed it. It might be time to call upon St. Joseph – the patron saint of real estate.
Why St. Joseph? Joseph was Jesus' father on earth and is the patron saint of homes and families.
When to call on St. Joseph: As a Realtor, I only call on St. Joseph in the most desperate situations. When a house has been on the market too long, there are too few showings, and there are no offers in sight.
What? You thought all of my listings sell on the first day? No. I'm only human and sometimes the market doesn't see the house the way the sellers and I see it.
As a seller, I would put a St. Joseph statue in the front yard the same day the For Sale sign goes up, regardless of my faith practice.
Where to find St. Joseph: You can get a St. Joseph Home Seller Statue Kit at your local Roman Catholic book store or the Orange County Board of Realtors store, or on Amazon.
Where to put St. Joseph: Google this one and you'll get all kinds of advice. Here's mine. Bury him upside down. The theory here is that he'll be working hard to stand upright again, and that will only happen when your home is sold.
Bury him in the front yard facing the street. He'll be looking for buyers to bring in an offer.
And be sure to mark the spot where you buried him. Take a picture on your phone, put a new plant on top of him, or place a little rock over the spot. It's important.
How to activate St. Joseph's powers: Get down on your knees and say the prayer that came in the box with the statue. At least say the prayer. Out loud.
What to do when St. Joseph gets your house sold: Once the house sells, the instructions in the kits say, you need to dig him up and put him in a place of honor in the home, which can be your new home.
Since I sometimes bury a St. Joe and don't tell the sellers, I put him in a place of honor in my office once the house has sold. Until I need to bury him again.
Can you imagine what would happen if both the sellers and the Realtor bury a St. Joseph on the property? Don't know if you'd call that turbo-charged, on steroids, or fasten your seat belt, but good things are likely to happen.
I'm Leslie Eskildsen, Realtor, and Contributing Columnist to the Orange County Register Sunday Real Estate Section
949-678-3373
Email me. Leslie@LeslieEskildsen.com
Helping you make the right move in Mission Viejo, Coto de Caza, Rancho Santa Margarita, Irvine, Laguna Niguel, Laguna Hills, San Juan Capistrano, San Clemente, Laguna Beach, Newport Beach, Dana Point, Corona Del Mar, and other Orange County communities.
BRE No 01320195