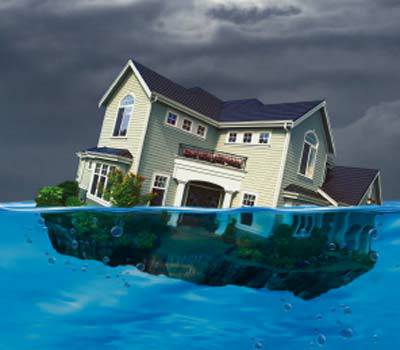 It takes a disaster like Hurricane Harvey to give us all a wakeup call. While we are safe and dry, our hearts go out to those who've lost so much along the Gulf of Mexico. While hurricanes pose a limited threat to us, what is happening in Texas and Louisiana does give us all a very good reason to review our own protection from the Force Majeure occurrences that can impact our Southern California homes – like wild fire, mud slides, flooding, and earthquakes. Were you living in California when Hurricanes Kathleen and Nora came along? Have you heard of tropical cyclones? According to one NASA article dating from 2012, California has been affected by at least a few of these storms every decade since 1900.
Every home owner, rental unit owner, apartment building owner, and commercial property owner within the sound of my voice should take the first available opportunity to review your insurance coverage. Does your current insurance included flood damage caused by a tropical cyclone? Now might be a good time to check and see. Call your agent or the customer service department of your insurance company and ask them to help you review your current coverage – your deductable, your replacement value, and your specific coverage.Find out if you are covered for damage to your property from wild fires, mud slides, flooding, and earthquakes.Find out what happens if your home is totally destroyed. Does your insurance provide for temporary housing while your home is being rebuilt?Does that provision run out at some point, what is that point, and what happens after that point?
If your review reveals some gaps in your insurance, ask about your options. How much more will it cost to increase your coverage and when will the changes go into effect? Are there any other natural disasters that you might want to insure your property against? Do you need to talk to another insurance carrier to get the full protection you want?If you're in escrow to purchase a home, read your Natural Hazards Zone Disclosure Report carefully. It will show if your home is in a flood zone, high fire hazard zone, an area with soil liquefaction characteristics or a seismic fault zone. Or all of these.
Are you renting home or office space? Check your coverage as well. If you don't have renter's insurance, look into getting a policy to protect your possessions, at a minimum. Don't be caught unaware in the face of unavoidable disaster.
I'm Leslie Eskildsen, Realtor. BRE No 01320195
949-678-3373
Email me. Leslie@LeslieEskildsen.com
Helping you make the right move in Mission Viejo, Coto de Caza, Rancho Santa Margarita, Irvine, Laguna Niguel, Laguna Hills, San Juan Capistrano, San Clemente, Laguna Beach, Newport Beach, Dana Point, Corona Del Mar, and other Orange County communities.