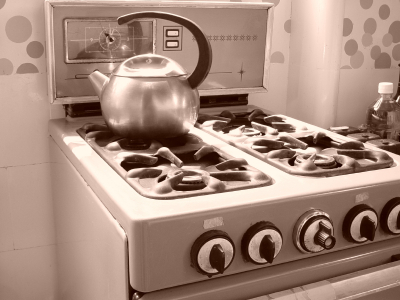 Full disclosure is important in any healthy relationship, even between home buyers and sellers. In order to make an attractive offer to purchase a home, buyers need to disclose their financial capability of making the purchase by showing their pre-approval from a legitimate lender who's looked at their requisite financial documentation. On top of that, buyers will also provide proof, in the form of current bank statements, that they have the money on hand to make the purchase. This disclosure may lead to an accepted offer, which will then prompt the seller to have to open his kimono and disclose information about the house.
Urban legend has it that you used to be able to purchase a home in California using one piece of paper.Today it takes upwards of 100 pages, closer to 150 if you are taking out a home loan, and about 80 pages of these are the sellers' disclosures. The trickiest disclosure regarding the house itself, in my opinion, is the Seller Property Questionnaire (SPQ.) This form was created by the California Association of Realtors' fleet of savvy attorneys based "arguments" between buyers and sellers, arising from a lack of sufficient disclosure, in an attempt to stave off future legal action as much as possible. The meat of the SPQ begins with the question "Are you (seller) aware of…" (The form reminds you, on every question. that you, the person filling out the form, are the seller.) Here's an example of several of the questions on the SPQ and how some recent clients have chosen to answer.
Are you (seller) aware of… Repairs and alterations – Yes. The dining room was enlarged, the front bedrooms extended and the roof was replaced in 2011. New insulation was added in 2015. Rain gutters were installed in 2016. The furnace was replaced in 2016. The kitchen was remodeled in 2014 including new flooring, new cabinets, new quartz counters, new stainless steel appliances, new LED lighting, a new sink, new faucet, a new garbage disposal, and was repainted.
Are you (seller) aware of… Water-related and mold issues – Yes. The house was re-plumbed and diverted from the slab as a result of the slab leak in 2014. In 2017, the upstairs hall bathroom was retiled, repainted, and has new fixtures in the tub/shower as a result of a water leak. The ceiling of the downstairs family room, immediately below the upstairs hall bath, was also repaired and repainted as a result of the leak. The leak has been repaired.
Are you (seller) aware of… Pets, animals, and pests - Correct. If you answer "yes" to this question, you have to disclose that you had a beehive and a honey comb removed from the side of your house in 2017 and that the area was re-stuccoes and repainted. Or you may have to explain that you have two dogs, a cat, a rat, a snake, and two fish tanks. It's up to you if you want to specify the breed, color, weight or favorite foods of any of said animals.
I'm Leslie Eskildsen, Realtor.
949-678-3373
Email me. Leslie@MyMVHome.com
Helping you make the right move in Mission Viejo, Coto de Caza, Rancho Santa Margarita, Irvine, Laguna Niguel, Laguna Hills, San Juan Capistrano, San Clemente, Laguna Beach, Newport Beach, Dana Point, Corona Del Mar, and other Orange County communities.