As more homes are hitting the market now that we are in the full swing of the spring selling season, it feels like a good time to highlight what every home seller needs in their stash of secret showing strategies. Here are a few of my favorites.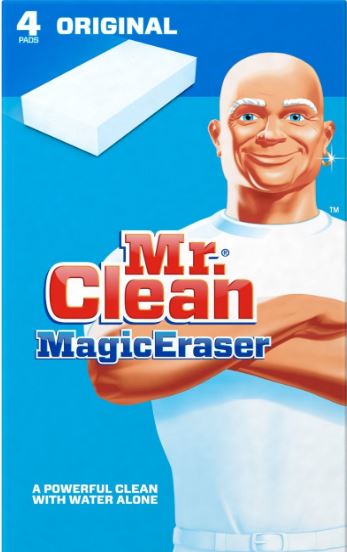 Mr. Clean Magic Eraser sponges – The quintessential indispensable tool for every home seller. You'll need to have these handy to quickly "erase" things like the banana fingerprints, which your daughter smeared on her bedroom wall yesterday after her mid-morning snack, which have now dried and turned an unattractive shade of black; the equally unattractive scuff marks on the newly painted baseboards made by the vacuum cleaner, which you quickly pulled out to make those classic "vacuum tracks" on the living room carpet just before the buyers arrive; and the dirty bull-nosed corners of the walls in the hallway your beloved cat has rubbed her chin across, repeatedly, and left an unattractive shade of brown. Erase them all with a couple of swipes.
Nearly empty closets - You'll need some extra closet space to easily fold and store the new bedding you got for each of the beds in your house. Since you're staging this new bedding (including a tasteful bead spread, an alarming number of color-coordinated pillows, and a textured throw) over the sheets, blankets and pillows your family actually sleeps on, you'll need somewhere to place the new bedding while you're using the bed. Then remember to whisk all the new bedding out each morning and re-make each of the staged beds in your house, so you're ready for the buyers who'll be coming by that day.
A large basket – Whether you use a basket you already have or make a quick trip to Target to pick one up, use this to collect the daily mail, important school papers, valuable coupons you're likely to use (especially for packing and moving services) and other important paperwork and possessions that you need but do not add to the staging of your home. Put all of these items in the basket every day and then put the basket away in a drawer or closet – so you have easy access to it, but it is out of sight for buyers.
Draw string trash bags – While you're stuffing your basket with your necessary paperwork,you'll be amazed at how easy it is to carry along a trash bag to pick up the day's junk mail, homework throw-away worksheets, unnecessary receipts, candy bar wrappers, and any other items destined for the trash can and not your kitchen or bathroom counter or floor. Keep your home as beautiful as possible to catch that qualified buyer.
I'm Leslie Eskildsen, Realtor.
949-678-3373
Email me. Leslie@MyMVHome.com
Helping you make the right move in Mission Viejo, Coto de Caza, Rancho Santa Margarita, Irvine, Laguna Niguel, Laguna Hills, San Juan Capistrano, San Clemente, Laguna Beach, Newport Beach, Dana Point, Corona Del Mar, and other Orange County communities.