It's a strong sellers' market in Orange County as we kick off the month of March, due to low inventory and high demand, especially for homes priced at $1M and below.
The active listing inventory increased by 12 homes in the past couple of weeks, a 0% rise, and now totals 4,460. There are 8% fewer homes that have come on the market this year compared to 2016.
The inventory should start to rise in this month and peak in mid-August.
There are 44% fewer homes on the market below $500,000 compared to last year at this time and demand is down by 7%. Fewer and fewer homes and condominiums can now be found priced below $500,000. This price range is slowly vanishing.
Demand, the number of pending sales over the prior month, increased by 10% in the past couple of weeks, adding an additional 248 and now totals 2,651. Today's demand is 3% higher than last year when it totaled 2,584. The average pending price is $835,152.
The average list price for all of Orange County is $1.6 million, identical to two weeks ago. This number is high due to the mix of homes in the luxury ranges that sit on the market.
For homes priced below $750,000, the market is HOT with an expected market time of just 34 days. This range represents 39% of the active inventory and 65% of demand.
For homes priced between $750,000 and $1 million, the expected market time is 54 days, a seller's market (less than 60 days). This range represents 19% of the active inventory and 18% of demand.
For luxury homes priced between $1 million to $1.5 million, the expected market time is at 76 days, dropping by 4 in the past couple of weeks. For homes priced between $1.5 million to $2 million, the expected market time
The charts below give a more detailed break down of the current Orange County residential real estate market.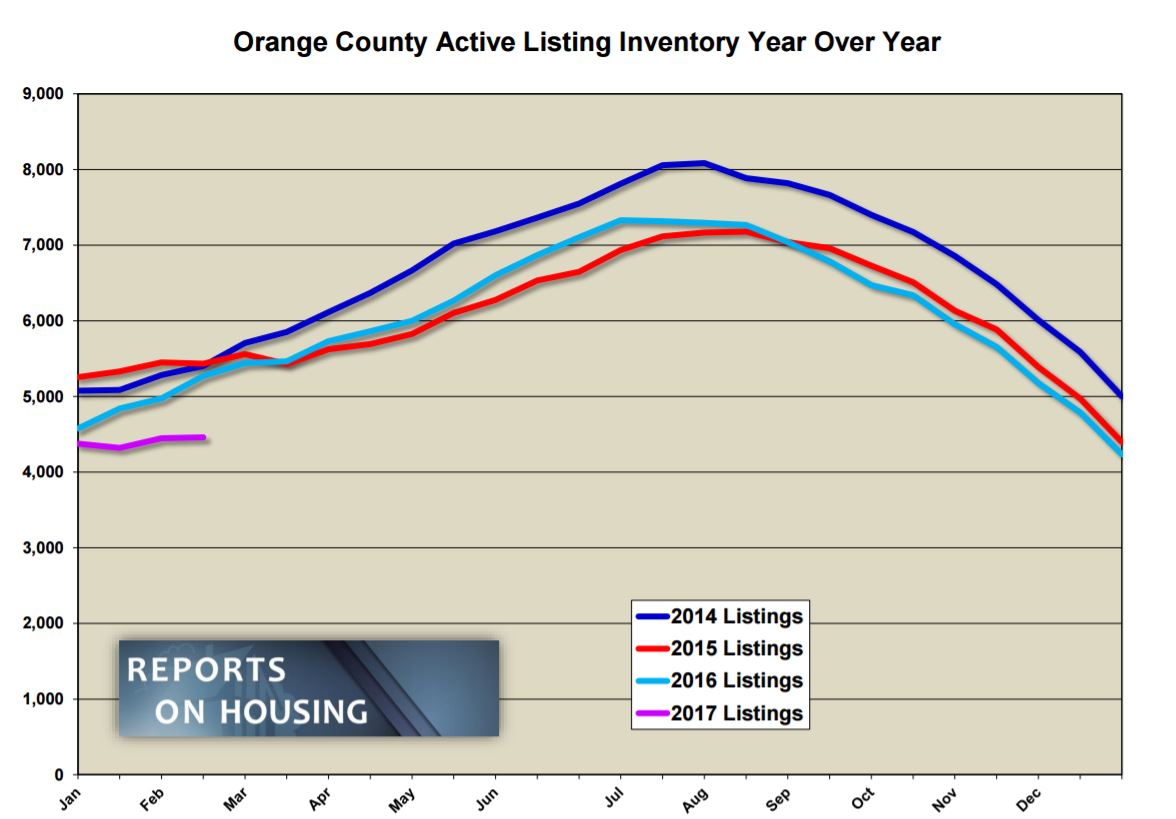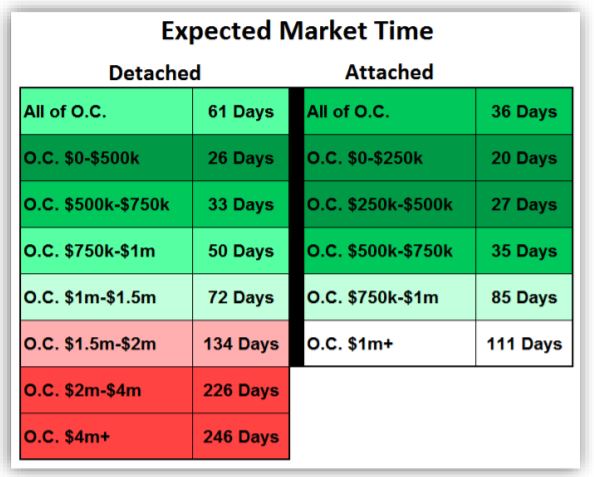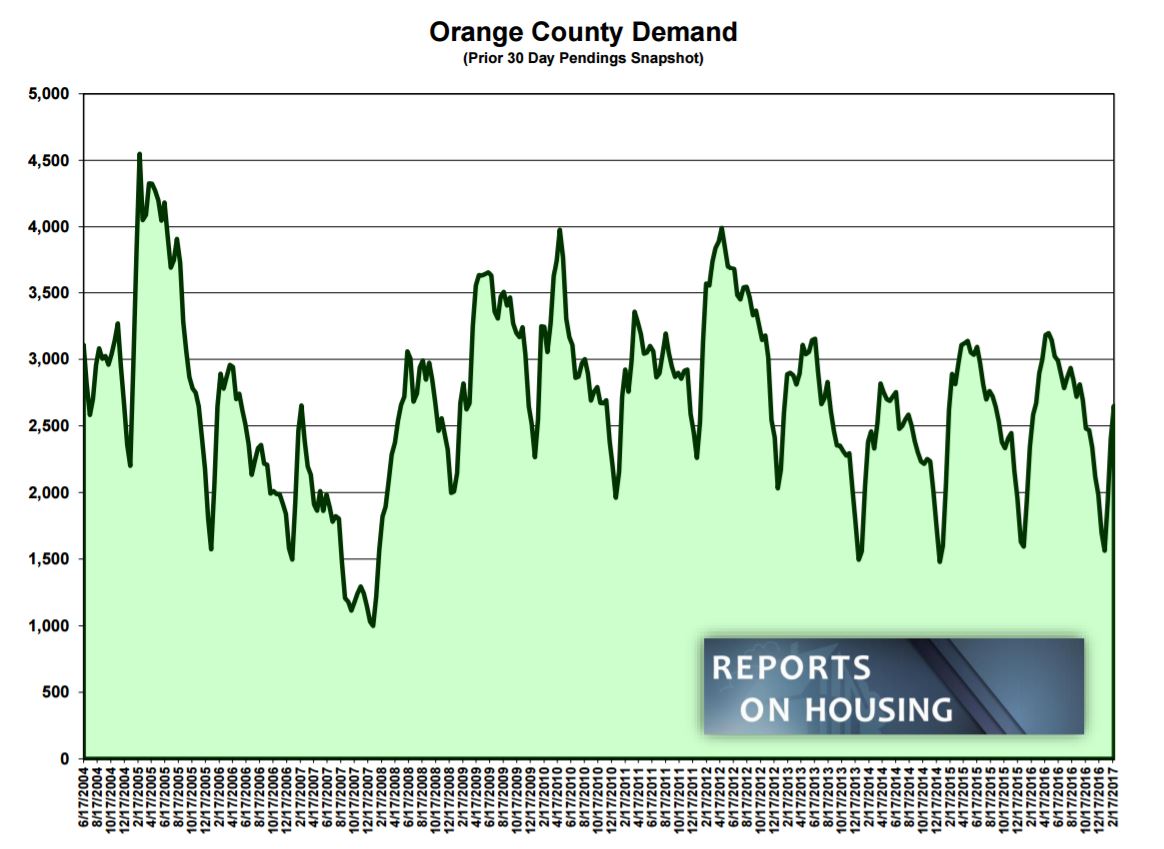 Demand has spiked back up from the seasonal lull during the Holidays. With a limited supply of homes for sale and high demand, homes are selling like hot cakes and the prices should see a steady increase.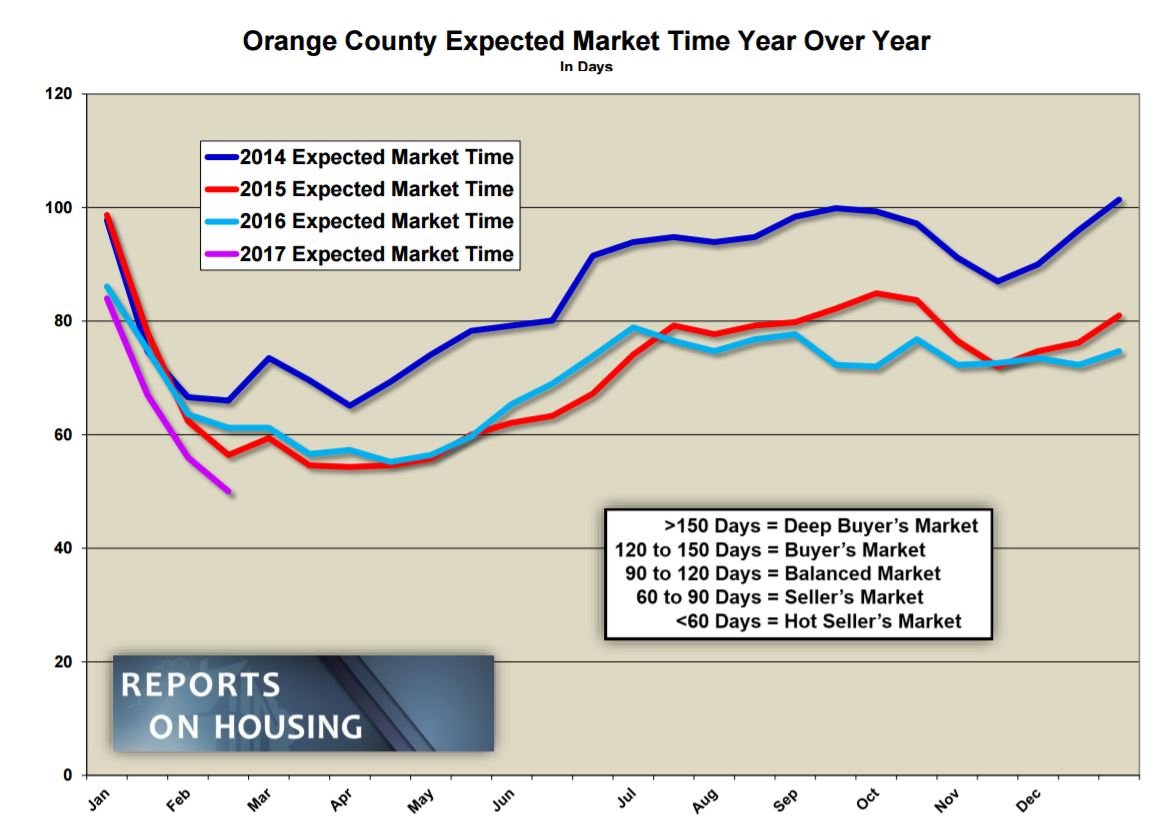 We are in a very hot sellers' market, as the expected market time has dropped below 60 days. What will happen as inventory begins to build throughout the spring and summer?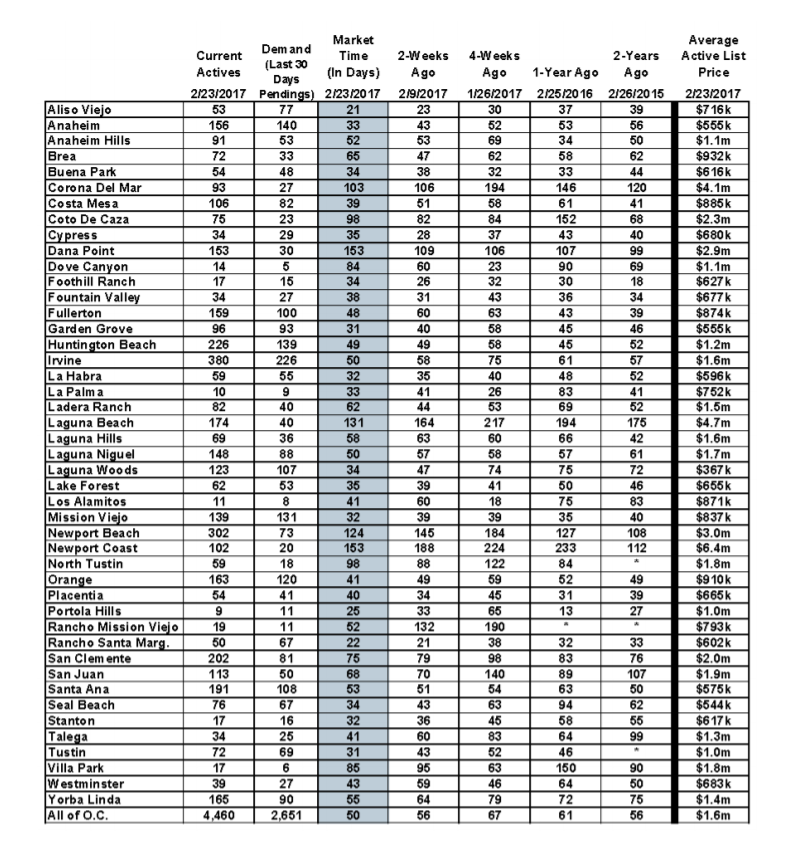 I'm Leslie Eskildsen, Realtor.
949-678-3373
Email me. Leslie@LeslieEskildsen.com
Helping you make the right move in Mission Viejo, Coto de Caza, Rancho Santa Margarita, Irvine, Laguna Niguel, Laguna Hills, San Juan Capistrano, San Clemente, Laguna Beach, Newport Beach, Dana Point, Corona Del Mar, and other Orange County communities.