Welcome to February 2017!
The big news in today's Orange County Real Estate Market is that there are very few homes currently listed for sale. This is referred to as a "low inventory condition." Whether people are opting to keep their homes and remodel or upgrade them, as opposed to selling and buying a new home, or people are waiting for the Spring Market, the result is fewer home owners choosing to sell their homes today. This slants the market toward those sellers who are currently on the market.
As long as the total listing inventory for Orange County is below 8000, the deck is stacked toward sellers. And we are SIGNIFICANTLY below 8000 - we currently only have about 4300 homes listed for sale. In actual numbers, there are 11% fewer homes on the market today than there were this time last year, and 19% fewer homes for sale today than the beginning of 2015.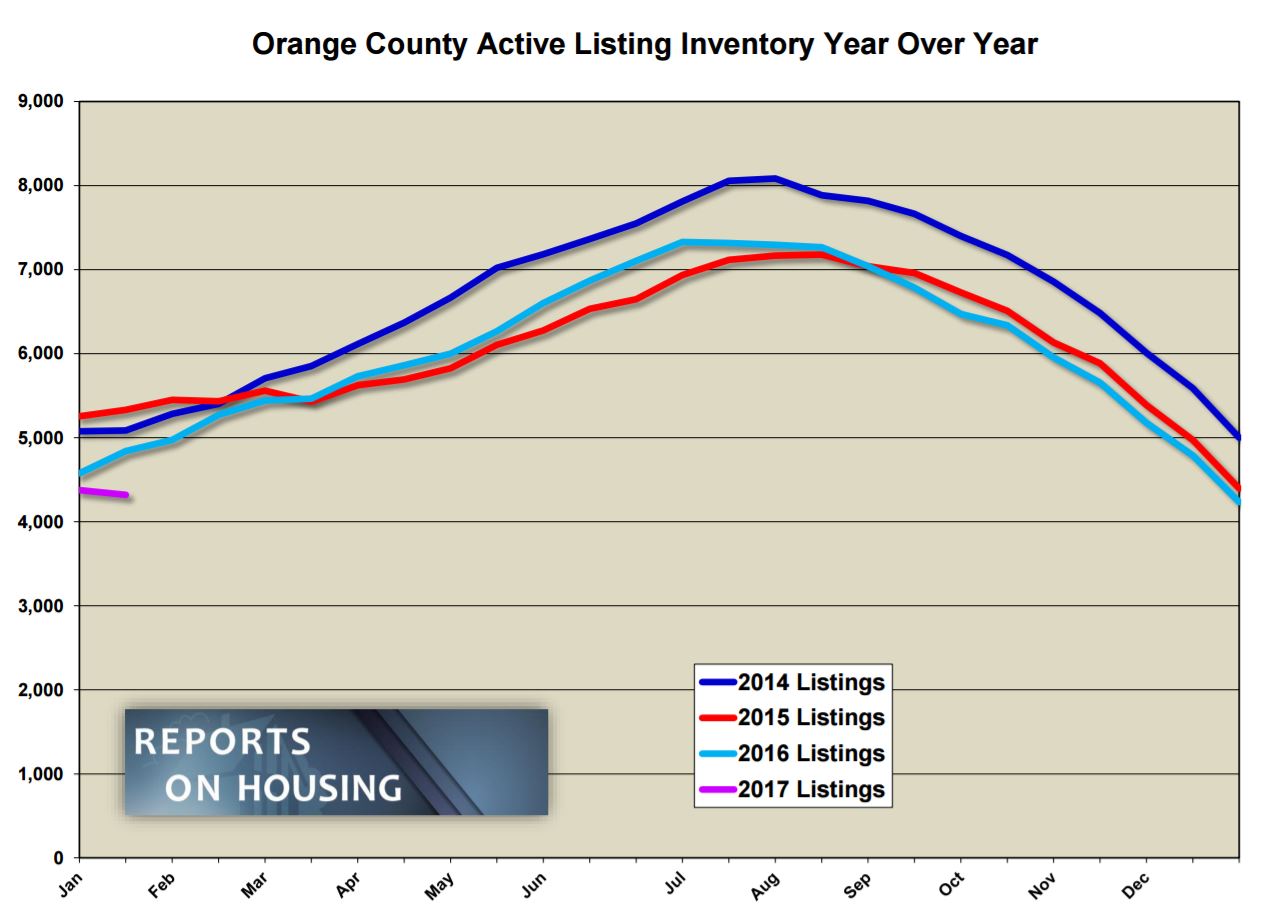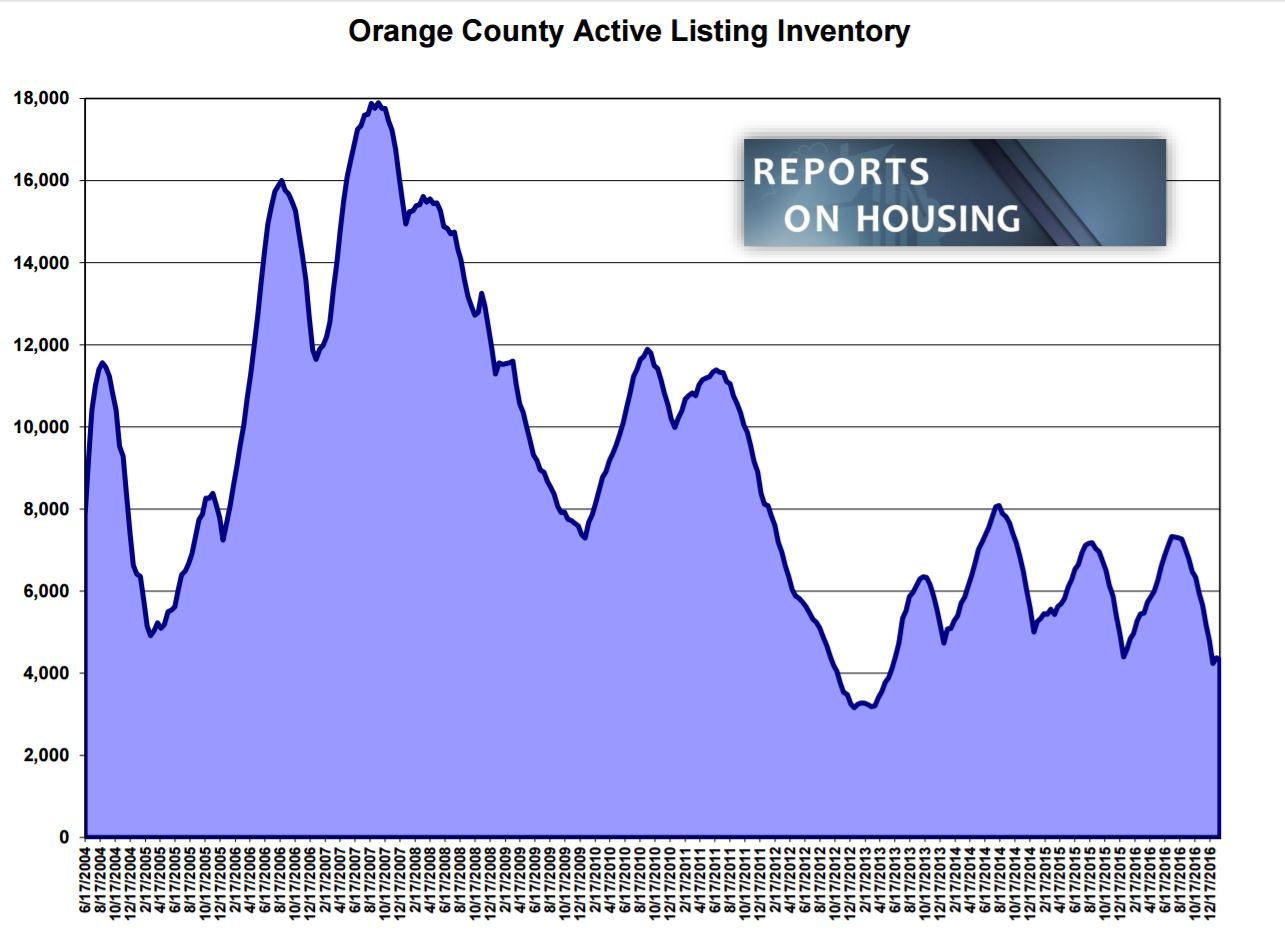 In addition, the expected days on the market (the number of days it takes to get the house sold) has dropped from 84 days from just two weeks ago, to 67 days as of today.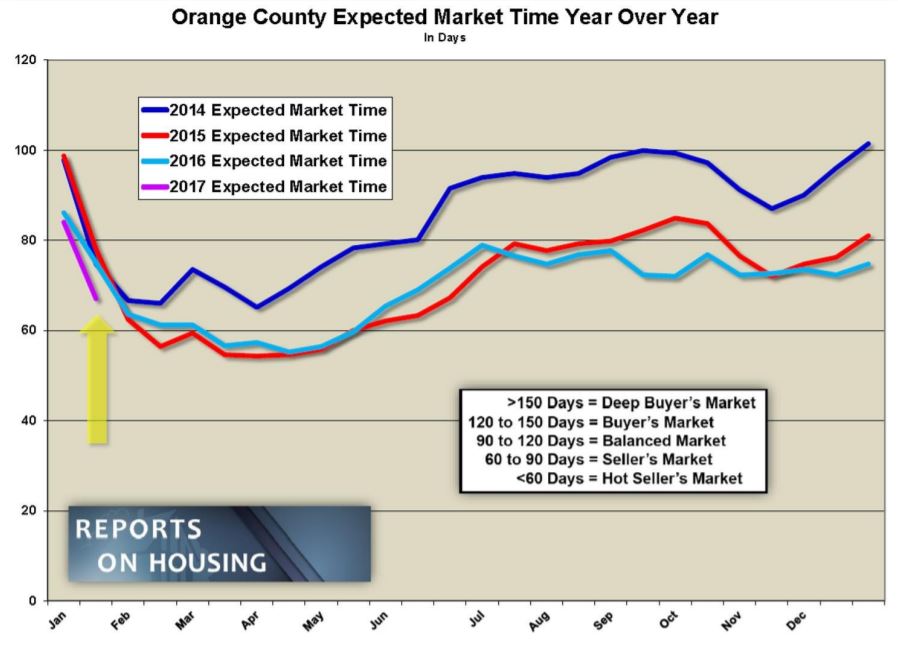 Meanwhile, buyers are out there in huge numbers which is by definition, high demand. Homes priced below $750,000 are flying off the market. These homes represent 42% of the current inventory and 67% of the demand. Luxury homes in the $2M plus range are taking 277 days to sell today.
Any question that if you are looking to sell this year, now's the time to do it? Inventory historically begins to increase quickly right after the Super Bowl - so watch for more homes to hit the market beginning February 6, when the Spring Market unofficially begins. Seller who wait too long to pull the trigger will be subject to changing market conditions that will be different than we have today. Inventory will be much higher and we suspect demand will remain the same. This results in longer market time and may put pressure on pricing. And who knows what the other prevailing conditions will be like after the first 100 days of the new administration.
Now is the time for sellers to take maximum advantage of this low inventory, high demand market. Right now.
I'm Leslie Eskildsen, Realtor.
949-678-3373
Email me. Leslie@MyMVHome.com
Helping you make the right move in Mission Viejo, Coto de Caza, Rancho Santa Margarita, Irvine, Laguna Niguel, Laguna Hills, San Juan Capistrano, San Clemente, Laguna Beach, Newport Beach, Dana Point, Corona Del Mar, and other Orange County communities.
Check out the current stats for your favorite Orange County city below: