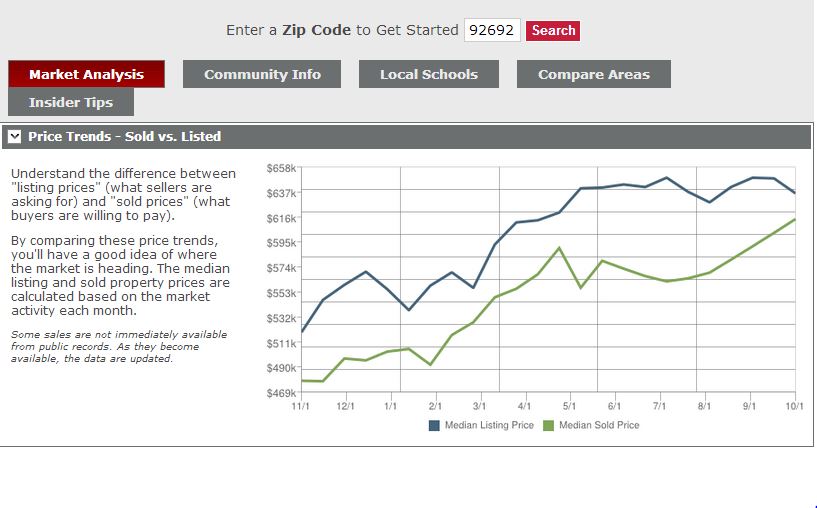 While the list price of a Mission Viejo house up for sale in the California Regional Multiple Listing Service (CRMLS), which is the official database of the licensed, dues paying, real estate sales professionals and broker members here in Orange County; where that Mission Viejo home list price comes from, how close that Mission Viejo home list price it is to the actual current market value of the home listed for sale, and how buyers will react to that house at that Mission Viejo list price are influenced myriad factors. Let¬ís take a look at a few recent ¬ďsituations¬Ē that have had ever so much to do with the Mission Viejo list price, shall we?
At Market Value List Price
You and your Realtor have scoured the comps ¬Ė the houses comparable to yours in terms of; bedrooms, bathrooms, upgrades, pool or no pool, view or no view, professionally staged or tragically mediocre, and you hit the nail on the head. You set your list price to draw in the maximum number of qualified buyers as you can. And you get an offer about a week later at a price pretty close to the list price. Good job!
The Over Market List Price
So you've done a little decorating. You added some designer touches at a pretty high price tag. And you enjoyed it all, until the day you decide you needed to move on. And move out all of your decorator-selected furniture and accessories, leaving potential buyers to fill in the blanks as they evaluate your vacant house. Thing is, while you are adding to the value of your house the improvements you made, potential buyers are deducting from the list price for the re-decorating touches they'll need to make to transform it home their own. As it turns out, transformation is expensive.
The Under Market List Price
Was it the strategy of the listing agent and the seller to price the house; remodeled, updated, and professionally staged, at a price that was so far below any of its' competitors that is generated multiple offers in a matter of days at prices over the list price? Who knows? The point is, the list price was not reflective of the current market value of the house. And the market responded. All of the buyers looking for that neighborhood, with that number of bedrooms and bathrooms in that condition (remodeled, updated, and professionally staged) made their offers. And knowing the current market trends, as home buyers today do, they let the seller know that they will pay what it is really worth. Even if that is over the Mission Viejo home list price.
I'm Leslie Eskildsen, Realtor.
Call me. Text me. 949-678-3373
Email me. Leslie@LeslieEskildsen.com
Helping you make the right move in Mission Viejo, Coto de Caza, Rancho Santa Margarita, Irvine, Laguna Niguel, Laguna Hills, San Juan Capistrano, San Clemente, Laguna Beach, Newport Beach, Dana Point, Corona Del Mar, and other Orange County communities.