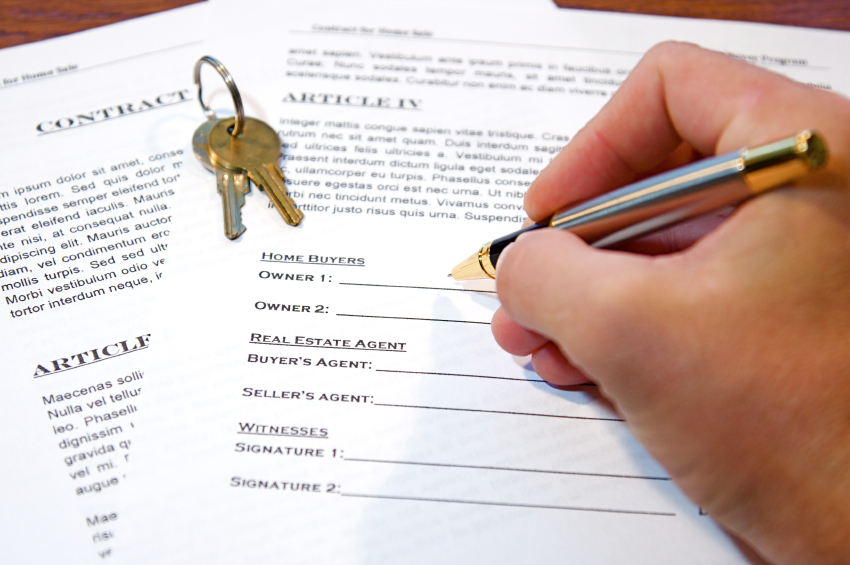 As a part of reviewing all of the documents you've received from escrow and your agent, you read that the deed to the house is in the name of Minnie Pearl and the contract for the sale of the home was signed by Minnie Mouse. You assume that Minnie divorced Mr. Pearl and you feel strongly that a house where a divorce occurred is really bad karma, will make for bad fung shui, and will set off a string of recurring bad vibrations for you and your family. In a moment of panic, you cancel the escrow. Somehow, this pretzel logic becomes know to the sellers and their agent. Once it becomes clear that Minnie bought the house as a single woman while her last name was still Pearl, and then married Mr. Mouse, and subsequently changed her name – there's a moment of clarity and serenity. You realize that, just because she never got around to changing the deed in to her married name, your tenure in the home will not be tainted. With this new-found peace of mind, you submit another offer on your dream home and do what it takes to close the escrow with Minnie Mouse and move in.
You're newlyweds buying your first home together – how exciting! After scouring the market with your agent you find the perfect home to start your new life together and you're ready to pull the trigger and submit an offer. When it comes to the paperwork, you have to remind yourself that you are still legally known by your maiden name, since you've yet to receive your marriage license which would give you the document you need to officially change your name in all the appropriate places and with all the requisite entities. Your agent makes sure to follow up with you a few months later to remind you to change the deed to your married name. Since you still haven't received your marriage license and are still legally going by your maiden name, it's not time to update the deed just yet. You make a mental note to get that done once you get your marriage license. Just like Minnie Mouse might have done.
You're newlyweds buying your first home together – how exciting! You jump on the first great deal you find, on a house which is perfect for you and amazingly stunning, as well. You fill out all of the paperwork; submit all of your financial information and miraculously your offer is accepted. Bingo! Off to escrow we go. Only to hit a bump in the road when the notary needs to see your driver's license in order to notarize your loan documents. And your legal name is still Minnie Cooper, even though all of the paperwork refers to you as Minnie Schnauzer. While in the core of your being, you're crossed the threshold from Cooper to Schnauzer, the legal system is lagging far behind you.
While the names in these scenarios have been changed to protect the innocent, make sure you have your current legal name in mind when you engage in the pursuit of purchasing real property.
I'm Leslie Eskildsen, Realtor, and Contributing Columnist to the Orange County Register Sunday Real Estate Section
949-678-3373
Email me. Leslie@LeslieEskildsen.com
Helping you make the right move in Mission Viejo, Coto de Caza, Rancho Santa Margarita, Irvine, Laguna Niguel, Laguna Hills, San Juan Capistrano, San Clemente, Laguna Beach, Newport Beach, Dana Point, Corona Del Mar, and other Orange County communities.
BRE No 01320195