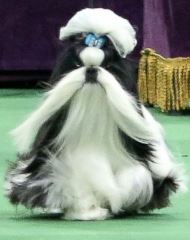 Even though we are in a very low inventory situation, where there are not enough homes available in most price ranges for the number of buyers looking for homes, sellers still need to put their best foot forward when it comes to making their house available for buyers to see in person. While the following advice to home sellers may seem obvious to you, these are not obvious to all sellers. How do I know? Because these are all things I've actually witnessed in the last few weeks as I've been out looking for houses for sale with my well-qualified buyers.
Don't leave your dogs in the back yard without letting people know if it ok to go out back with the dogs and what to do if the dogs accidently get back in the house.Leaving a note on the door to the back yard to let people know how to handle the dogs would be a great idea. If your dogs are friendly, leave their leashes near the door and suggest that if buyers want to see the yard, they might secure the dogs first. If your dogs are not friendly and potentially dangerous, please warn people very clearly, at all points of entry to the yard, garage, bedroom, bathroom, laundry room, or any other place you may have secured the dogs before the buyers arrive, not to enter the room due to unfriendly dog(s). This is for your protection and the buyers' safety.
If your dogs are friendly, and you're fine having buyers check out the back yard, please pick up after your dogs as frequently as possible. Stepping in a gift from one of your dogs, recently deposited in the yard, will not leave a happy memory of your home for the potential buyer.
Don't stay in the house when buyers come to have a look. Cease folding clothes; gather up your mother-in-law, who's been quietly reading on the couch, your daughter who's doing her homework at the kitchen table, you're husband who's raking leaves in the back yard, and the dogs, and leave the house - all of you. Your presence puts a palpable damper on the buyers' reaction to your house. They cannot talk freely. They feel like creepers looking through your things. They feel like they are invading your space.Instead, take the dogs and the family for a walk nice walk up the street. Let the buyers have some privacy as they see if your house is a fit for their needs.
Do turn on the lights when buyers are expected, in all the bedrooms and bathrooms, kitchen and living areas, and even in the garage. Brightness is usually associated with cheerfulness and it also helps make your home look larger.
Do leave the doors to all the bedrooms and bathrooms open when you are expecting buyers, except that room where you've stashed the dangerous dog. Leave that door closed with a large sign declaring in large, legible letters "Do Not Enter – Dangerous Dog Inside."
If you break all the rules, have your dogs running loose, your mother-in-law quietly reading on the couch, your daughter doing homework at the kitchen table, and your husband raking the grass in the back yard when the buyers arrive, at least turn on the lights.
I'm Leslie Eskildsen, Realtor, and Contributing Columnist to the Orange County Register Sunday Real Estate Section
949-678-3373
Email me. Leslie@LeslieEskildsen.com
Helping you make the right move in Mission Viejo, Coto de Caza, Rancho Santa Margarita, Irvine, Laguna Niguel, Laguna Hills, San Juan Capistrano, San Clemente, Laguna Beach, Newport Beach, Dana Point, Corona Del Mar, and other Orange County communities.
BRE No 01320195